Ever wonder why you mascara or
MANscara
(boys) dries up after only a short while!?
Why you have dry/clumpy lashes that flake?
Or have
taranchula
eyes!?
Because

YOU

must be a

PUMPER

!
We once were victims of this tacky look, but thanks to this short bit tip, we

dont

look like this anymore: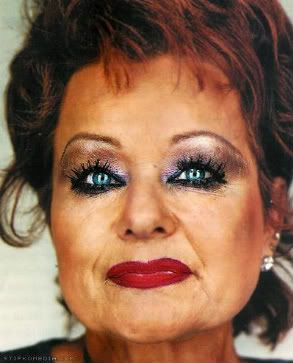 To avoid this look, DO NOT PUMP YOUR MASCARA! Simply pretend that you are swiping mayo for you mask that we have suggested in our blog down below.. ;) Yes, scraping the side of your mascara tube will load up your brush with product and apply generously. Pumping your mascara like a
handjob
will only put air into your mascara causing it to dry out quickly. We personally suggest to renew your favorite mascara every 4-6 weeks, for those fabulous lashes to look their best. Our favorite mascaras are
MACs
ZOOMLASH
,
MACs
H2O proof
BACKSPLASH
and
LOREALs
VOLUMOUS
mascara.